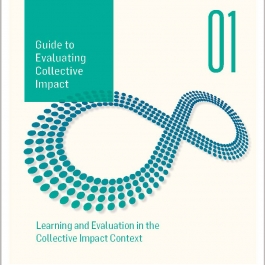 Since I first got involved in Demonstrating Value, I've been inspired by the great work out there that is changing how we think, and do measurement.  One group that I am always keen to follow is FSG.   They are a nonprofit consulting firm specializing in strategy, evaluation, and research based in the US.  In recent years they have strongly advocated for shifting our community development approaches to a stronger focus on creating  'collective impact'.   This is where we are much more aware and thoughtful about how impact is the result of the work of many organizations.  They have advanced many new resources that can help organizations to work  in this way, particularly to support how we can collaborate effectively to bring about common desired impact.   
At long last, they've just released a Guide to Evaluating Collective Impact that clearly articulates what this approach looks like in terms of practical evaluation method.     It is a a three part guide to planning and implementing evaluations of collective impact initiatives.  
Here are some useful ideas that I've gotten out of the guide so far: 
Shared measurement and evaluation are complementary activities. They are not the same thing! 
Approaches need to evolve as the initiative evolves.  It doesn't make sense to apply the same evaluative approaches in the early years of an initiative as the middle and end. 
Concentrate on "need to know" questions versus those that are just "nice to know"
It's critical to allocate sufficient time to the sense-making process, not just collecting the data.
Happy reading!  If you're not into reading, or would like to supplement reading with a presentation and conversation, it looks like you can join a webinar this Wednesday, June 11, 2014
11:30 am – 1:00 pm ET / 8:30 am – 10:00 am PT